Paint Protection Film Installation Training
Committed to Installation Quality
Being able to provide customers with quality installations of XPEL products is extremely important to your success in the Paint Protection industry. For that reason, XPEL offers a very thorough set of installation training courses that have been consistently rated as the best in the industry.
We guide our students through an education process that is both intellectual and hands-on. Our comprehensive ppf install training curriculum covers topics ranging from the inner workings of our DAP software to the latest, most innovative installation techniques for paint and headlamp protection film.
I came into training class with no knowledge of clear bra installation, during class I learned the proper techniques to install thanks to Alex Valencia, an XPEL Trainer. His class is very informative, detailed oriented and shows you the techniques to become successful. If anyone decides to get into this business, I highly recommend coming here first before getting started."
B. Vargas III
Training Classes
Training Class
Duration
Cost

Installation Training

Paint and Headlamp Installation Training

1 Days (Sunday-Friday)

$950

Per person, Max 4 participants

Advanced Training

Advanced Paint Protection Film Installation Techniques

Scalable up to 4 days in your premises

(acceptable experience or completion of the four-day training class is required as a prerequisite)

$ 950

per day + travel expenses For the trainer
Our classes are held at the XPEL Training Center, which is located in close proximity to the Banglore International Airport. Our PPF install training benefits the novice and advanced installer with a purposefully structured syllabus for each skill level. Students receive the personal attention that will enable them to gain the skills necessary to provide quality, trouble-free installations on even the most challenging of vehicles.
We also provide complete instruction on the use of our Design Access Program software and associated hardware. We will supply you with a training manual, all necessary materials, and tools, and provide lunch on each of the training days. In order to ensure an adequate amount of specialized attention, class sizes are normally limited to four students per instructor.
If you would like more information, please call +919746520555 or to speak with a Company representative or email automotive@uniprotectindia.com. We recommend trainees stay near the facility and offers complimentary shuttle service to the class each day and to nearby restaurants and other establishments. We offer three convenient options for lodging. The Premier Inn Hotel, The Fortune Park Hotel and the Maisan Hotel all of which are located in Dubai Investment Park.
Installation Training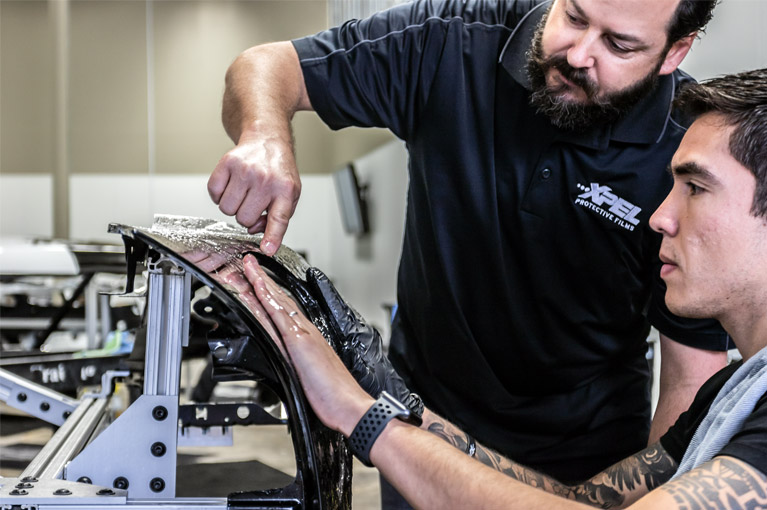 International Training Available
XPEL India
Uniprotect Ventures LLP
38/3, Agara, Sarjapur Rd (next to Jakkasandra)
Koramangla Post
India
+919746520555
XPEL India is conveniently located at the heart of the city and is less than 15 minutes away from the nearest metro station.
XPEL B.V.
Henri Blomjousstraat 10
5048 AG, Tilburg
Netherlands
+31 13 467 5547
8:30-17:00 CET
Nestled in Tilburg, XPEL Netherlands is approximately an hour away from Amsterdam Airport Schiphol.
XPEL Mexico
Camino al CUCBA No. 175
Col. La Venta del Astillero
45221 Zapopan, JAL, Mexico
+33 1657 3191
9:00-6:00 CST
XPEL Mexico is located in the Guadalajara area, providing training for customers throughout Mexico, Latin America & beyond.
Here are a few quotes from our online XPEL Dealer Forum from XPEL Dealers who have completed the Course:
For anybody thinking about going to the advanced class, do it. I have been installing since May 2008 and just returned from this class. Its a great way to work on your skills. I personally installed about 25 kits in roughly 14 hours! You will learn some new skills and remember some of the things you may have forgotten, plus the sunny weather and free lunch make it all worthwhile. Well worth it!"
Just installed an ES330 (5 star bumper) front end in under 1 1/2 hours. Would have taken approximately 2 - 3 hours prior to this class. Also installed an Accord front end Saturday in abut an hour."
Advanced training class was awesome. I've been in the business for over 4 years and thought I should try the class out to see if I would pick up a few tricks and I did. It was worth the trip. I was on the Mazda rx8 bumper and after the trainers told me a few tips I was able to shave another 15 minutes off my install."
I must say it's the best money I've spent in a long time."
Went to advanced class after (Dealer) Conference as well...it has improved my installs and installation time. I now understand the design process, and therefore the install process better. Average install time has gone from @ 3 hours down to @ 2 hours (start to finish). Stretch, compression, and silvering marks are virtually gone. Time spent laying down fingers, rubbing marks, etc nearly eliminated. Worth every dollar it cost."
I went to the class right after the (Dealer) Conference, enjoyed it very much, got some much needed confidence."
To all those on the fence about the advanced training just wanted to offer a swift kick in the (pants) to go do it!"
I just got back from last weeks session and am excited again about doing installs. I am amazed at the techniques and speed that I was able to pick up within only 2 days. Props to Jeff, Andrew, and Tim for their expertise and for being great coaches, Thank you, Rege, for the ride to the airport, not necessary but much appreciated."
The great bunch of guys (and gals) at XPEL made the time enjoyable and very worthwhile."
A quick background to all those saying "I know it all and there is no room for improvement" : I have been installing the kits for close to six years and have committed to it full time for the last 3-4 years. I have averaged about 10-15 vehicles a week for the last 2 years and I do plenty of Lamborghinis, Porsches, Ferraris etc. w/ our average vehicle price between $700- $800. My work is pretty good to keep these people as repeat and referral customers as we all know how anal some of these guys can be. Before I left for training a few of my buddies were saying why would you waste your money you'll probably be teaching the trainers how to do it. Well I am very happy to say that I didn't take that Know-It-All attitude because it was apparent right when I got there that there was much room for improvement. Those video clip and claims of 10 minute hoods and 25 minute bumpers are the real deal. I was always guessing trick editing and white lies but it really is true. Brushing up and applying a few common sense techniques I was able to do installs in 1/4 the time (no exaggeration) and they were coming out much cleaner. Very nice to burn through the film that they provide vs. film you have paid for. With the amount of film we went through (and the FREE lunches!), am now convinced they don't make a dime for the training. They are truly committed to succeeding only from your success."
I was under the impression that practice makes perfect but I have realized that it is perfect practice that makes perfect. The habits I had developed over the years has lead me to clean installs but an average of 4-5 hours per vehicle. It was pointed out and proven to me that (4-5 hours) is way too long. They were on my (side) and over my shoulder pushing me to do this, do that, move to your next stretch, etc. and finally things really started clicking and making sense. Less time means more money per hour per vehicle and I am confident that I just gave myself at least a 50% raise, Today I did an M3 and a Scion Xb before noon and that would have taken me most of the day prior to the advanced training."
Thanks XPEL for the opportunity to push myself and improve beyond what I thought was possible."
To all you installers considering it I highly recommend."
Request More Info
Have a question about XPEL PPF Installation Training?
Use the contact form below: